zingmagazine #23 Reading at Desert Island!
On Friday, October 4th, zingmagazine celebrated issue #23 with a fiction reading at Desert Island in Brooklyn. The event featured a reading by Phillip E. Shaw and projected illustrations by Nick Sumida, both of which were included in Brandon Johnson's section of zing #23. Behold.

 

 

Wiseguy, eh? Host / zing Managing Editor Brandon Johnson introduces zingmagazine, his project, Phillip E. Shaw, and Nick Sumida.

 

 

Phillip E. Shaw takes the stage to read from The Takes - his weird tale of a family assemblage thrown into cosmic crisis. Nick Sumida's onboard with it, his illustrations for the story projected in the background.

 

 

 

Excellent reading, Mr Shaw. Let the mingling commence.

 

 

Nam, Sofie, Lionel, and Marian diggin' the scene.

 

 

Brandon slingin' zings alongside collaborative future fashion zine Hi_Res by Nick Sumida, Coleman Eagle, and John Lisle.

 

 

Speaking of those devils, among other handsome devils.

 
Devon Dikeou Interviewed by the BMW Art Guide

"…collecting is a function of a creative exploration and what it means to operate within all the realms of our visual culture…. collecting is really part of our visual DNA…"
Read more at http://www.bmw-art-guide.com/interview-with-devon-dikeou/
"AFTER HAPPILY EVER AFTER"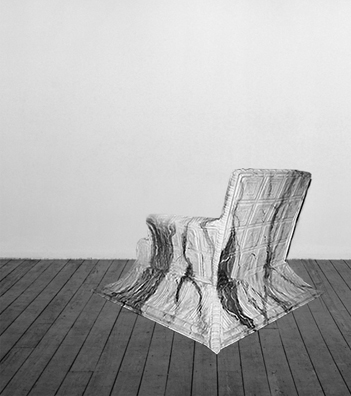 As it so happens…
Devon Dikeou's  "After Happily Ever After" chair and Context Gallery's
"Louis XV Goes to Sparta" lounge chair are long lost storybook-chair cousins…
Devon Dikeou probes the intricacies of the art world


On July 14, 2013, Devon Dikeou debuted her work "Please" at The Contemporary (formerly AMOA-Arthouse) in Austin, TX. The following is a review of this exhibition by Jeanne Claire van Ryzin of the Austin American-Statesman published on August 4th. "Please" will be on view until September 1.

"Business of art put to test by an artist"

By Jeanne Claire van Ryzin

There's a delightfully deliberate artifice to Devon Dikeou's very conceptual installation "Please," now at the Contemporary Austin's Jones Center.

Rather jubilantly, the Austin-based artist calls everything about the art continuum into question: Just what is the role and value of the art object as it moves through history? And who does that defining?

Dikeou takes the last 16 still lifes painted by Édouard Manet as her inspiration for "Please." During the last months before his death in 1883, the French painter used the bouquets brought to him by friends as the subject matter for a series of intimate and sometimes overlooked paintings.

More commonly, Manet is remembered for the scandal caused by his major paintings such as "Le déjeuner sur l'herbe" which when it was debuted in 1863 shockingly juxtaposed nude women with clothed men casually posing on a verdant lawn.

Painted 20 years later, Manet's bouquets offer a more poignant view of the artist.

With a meticulous sense of detail, Dikeou replicated Manet's bouquets, working with a florist to create the exact arrangements of roses, lilacs, peonies, carnations and tulips, and collaborating with a glass blower to precisely fashion the 10 vases that appear in Manet's still lifes.

Dikeou then photographed her precisely re-created arrangements, printing each to the exact dimensions of Manet's intimate paintings.

The 16 photographic Manets now hang in a chamberlike room that's been installed in Jones Center galleries. There's no second-guessing that the room isn't temporary either - its unfinished outer walls reveal the two-by-four framing.




Accessible through a narrow mazelike hallway, the room's walls are lined with faux marble tile. In the center, an antique table displays the empty flower vases. Two large mirrors hang on opposite ends of the tiny chamber, creating a funhouse-like moment of endless reflections.

It's a monument to Manet in which everything is ersatz.

"These are photos of life where there is no life," says Dikeou on a recent walk through the gallery. "And the mirrors magnify everything. What part of the art exchange are you?"

In early 2011, Dikeou was selected for a residency at San Antonio's Artpace foundation, one of three international artists chosen by Heather Pesanti, now the Contemporary's senior curator. And it was while at Artpace that Dikeou conceived of "Please." But sourcing the fresh flowers in the Manet bouquets proved too difficult during her early spring residency. Instead, Dikeou created a kind of ersatz jazz Hall of Fame, complete with a commemorative CD featuring sideman horn player Sonny Simmons.

However, Dikeou couldn't let go of her intrigue with Manet and his bouquets. Thus, "Please" is receiving its debut in Austin, courtesy of Artpace.

And Dikeou doesn't let go teasing out sometimes conflicting definitions of artist, viewer, collector, curator, patron.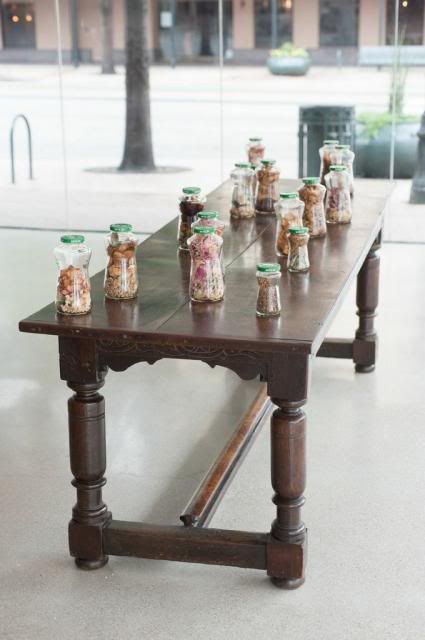 Greeting visitors before they enter the Manet mausoleum is a table with an assortment of 16 jars. Each is actually a Pace picante sauce jar, filled with dried blooms from Dikeou's Manet bouquets. Artpace founder Linda Pace used her largesse as heir to the Pace Foods fortune not only to create the San Antonio-based art foundation, but also to amass an impressive collection of contemporary art. Pace's legacy as a collector and philanthropist still resonates strongly throughout the Lone Star State, benefiting artists such as Dikeou.

And interestingly, Pace's father, who started the food company, patented the shape of the picante jar, making its shape something of a unusual form. Perhaps it's actually more unusual than the common glass vases Manet used to display his bouquets? Dikeou's project doesn't offer an answer. Instead her strategy is to question.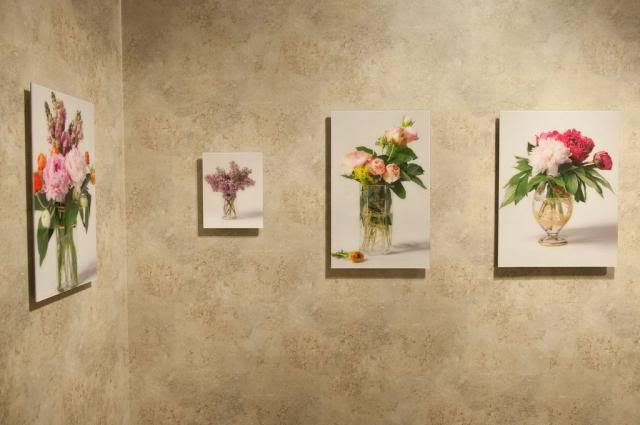 Born and raised in Denver, Dikeou, who turns 50 this year, set out for college on the East Coast. Afterward, she settled in New York City, where, beginning in the mid-1980s, she began working for tony galleries then in the throes of a booming art market fueled by a soaring stock market.

Dikeou seized upon the fuzzy complexities of the art world - the vagaries of how cultural value is determined and who gets to do that determining - as the topic for her conceptual projects and a host of other endeavors.

"I love to think about the commerce of the art world - how art is bought, how it's sold, and how the relationships between dealer and collector and artist play out," she says.

Perhaps not surprisingly then, Dikeou herself maintains a mutlifaceted role in the art world.

In 1995, she started Zing Magazine, which features curated multipage projects in which artists, curators, photographers, illustrators, designers and even musicians are invited to collaborate. Each issue differs in format and style. And with a current print run of 25,000, Zing now bears an impressive roster of past contributors: designer Zac Posen, artists Vik Muniz and Amy Sillman, London art dealer Kenny Schachter. (The next issue comes out later this summer.)

As an extension of the magazine, Dikeou teamed up with her brother, Pany Dikeou, to launch the Dikeou Collection, a gallery in Denver that features the contemporary art collection the siblings have amassed and still continue to add to.

Thrilled with the city's percolating cultural scene and its DIY arts happenings, Dikeou moved herself and her multi-part practice to Austin several years ago. She lives in an historic house in downtown Austin.

As intellectually clever as "Please" is, there's nothing cynical about it. Nor about Dikeou either.

"I love the quirks of history," she says. "I've always been attracted to them."
RECAP: 'Draft Urbanism: A Conversation' at the Clyfford Still Museum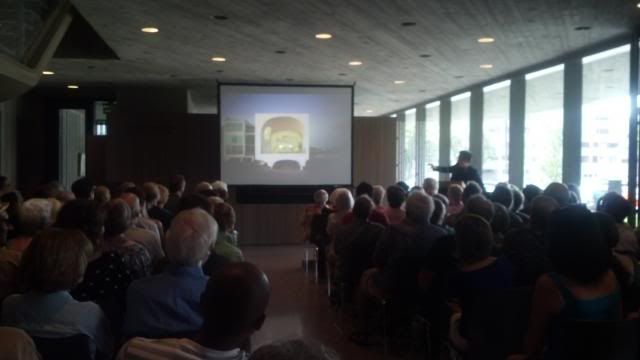 The theme for Denver's Biennial of the Americas is 'Draft Urbanism,' which means that a city or any urban area is always in a state of flux, caught within a never-ending string of "drafts" that are constantly revised and updated. This applies to the all the different fabrics that constitute an urban community; social, familial, political, economical, cultural, educational, as well as the physical aspects of the urban environment are always changing, even if it's not always immediately apparent to the human eye.

Architecture is one of the most noticeable indicators of urban change. Structures are always being built, torn down, or remodeled in order to address the needs of the people who use the space as well as those who reside nearby – at least that's what one would hope. While most new building projects boast large scale and flashy ornament, there is a steady core of architects who believe that less is more. As part of the Biennial programming, the Clyfford Still Museum hosted a lecture called "Draft Urbanism: A Conversation" with avant-garde architects Mark Lee and Michael Webb, who each discussed their perspectives on the architect's role in the ever-changing urban landscape.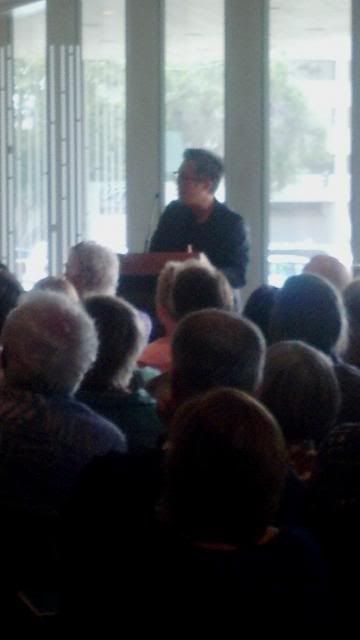 Mark Lee is a partner in Johnston Marklee, an award-winning firm founded in Los Angeles in 1988. To quote their company profile, "Johnston Marklee draws upon an extensive network of collaborators in related fields, engaging the expertise of contemporary artists, graphic designers, and writers to broaden the breadth of design research. Johnston Marklee ascribes to the model of collaboration in which the expertise of joining disciplines are sharpened, rather than blurred, maintaining permeable boundaries for greater results."


" The firm's Chile House, located in Penco, Chile is a 4,465 square foot pavilion with an enclosed gallery. It is one of 10 projects by different firms intended to help the region rebuild its cultural infrastructure after a devastating earthquake in 2010. The pavilion, set on a forested hill, has two entrances and two large sliding windows that offer views of the ocean and of the city. This open viewing format allows visitors to experience art in an unusual space, but still reminds them of the natural beauty of their surroundings and of the progress made toward revitalizing their city.


They even used the shape of the tree trunks as inspiration for the formation of the concrete walls, showing that contemporary architecture can be harmonious in nature. The pavilion looks otherworldly, but still allows those interacting with the space to feel like they're on Earth by allowing open views of the land, sky, and sea, as illustrated in the diagram above.


The other project Lee discussed was this Hill House (2004) in Pacific Palisades. Southern California has some of the strictest building and zoning codes in the country because of the dense population and steep hillsides that are prone to horrific mudslides and earthquakes. The challenge was to build a single-family home on an irregularly shaped hillside. The family also wanted a reduced environmental footprint, prompting the architects to focus their design vertically rather than horizontally. The project succeeds in maximizing interior volume and minimizing foundation area, all while perched on the edge of a steep slope. From this angle, the home looks like the head of a screaming Lego figure, but the inside is super sleek and polished.


There are three floors: downstairs bedroom, main floor common area, and third story loft with a library. While the design and exterior view of the house is distinctly vertical, the interior flow seems predominantly horizontal, thus transforming a person's presumptions about the space upon entering. If one takes a moment to do a little browsing on the web for other Johnston Marklee projects, it will be immediately apparent that the masterminds behind this firm are fully dedicated to re-approaching and reconfiguring the ubiquitous 'white cube' in contemporary architecture and urban design into something that can fit any location and lifestyle.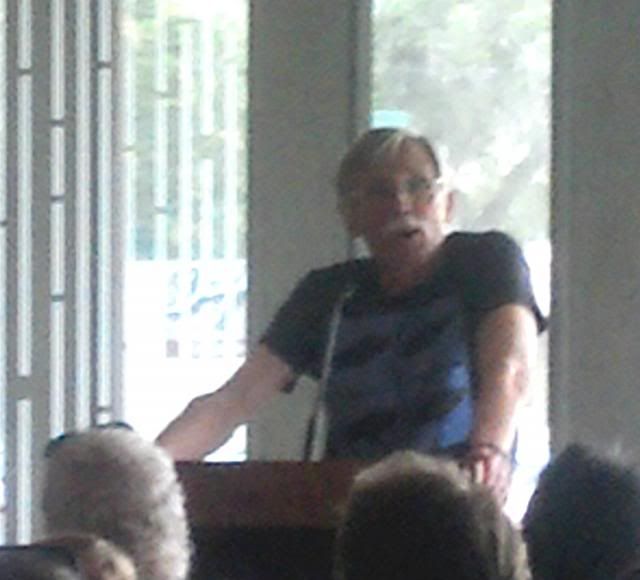 Michael Webb gave a follow-up presentation that delved into topics and imagery that seemed more geared for space travel than urban architecture. Michael was one of the founding members of Archigram, which formed in the 1960s as an avant-garde architectural group out of London; Webb now lives and works in upstate New York. Dedicated to hi-tech, futuristic, and conceptual (i.e. impossible) projects, Archigram made a name for itself in the architecture community as a group that did not limit itself to the confines of environmental reality.


One of the first Archigram projects Michael discussed was the Cushicle, a combination of a cubicle and a cushioned recliner. The design illustrations show the participant wearing the Cushicle like a standing sleeping bag before it inflates and allows the participant to recline and actually live within the enclosure.


This is what the Cushicle looks like when it is inflated.


And this is what it looks like after. The participant is then supposed to gather the loose material and somehow re-wrap it around themselves so it's back to the sleeping bag configuration. The Cushicle is not just for sleeping and comfort, but it is supposed to serve as a total living environment. To quote from Webb's website about the project, "The Cushicle carries food, water supply, radio, miniature projection television and heating apparatus. The radio, TV, etc., are contained in the helmet and the food and water supply are carried in pod attachments." This is not your traditional architecture with walls, windows, and rooftops – this is human habitation reinvented. It is meant to address issues of urban sprawl and life of the contemporary nomad. He questioned why people need such protective buildings when we live on such a benevolent planet. Well, a lot has changed from the 1960s up until 2013, and it is pretty safe to say that Mother Earth is not as benevolent as she used to be.


The next project Michael presented was the Rent-A-Wall. He did not talk a whole lot about what this particular project is about (or maybe I just can't remember what was said), but he did use this image to illustrate the idea that "you don't have to tell to the truth in architecture." At this point in the lecture Michael focused on the visual aspects of his designs. It must be noted that almost no Archigram project has ever been fully constructed, outside of one-off prototype models. However, the six men that comprised Archigram are highly recognized and praised for their incredible inventions in architecture and design, their advancements in the educational field, and their beautifully crafted illustrations. I was mesmerized by the images Michael showed during his presentation, with their rich collage aesthetic featuring cool combinations of sci-fi graphics, '60s advertisements, and modern typography. These "blueprints" are at the heart of the Archigram legacy. These images are not just instructions for futuristic living, but works of art in their own right.


In 1963, Archigram was invited to do an exhibition of their "Living City" project at the Institute of Contemporary Art in London. The exhibition then traveled to the Manchester City Art Gallery and the Walker Art Gallery, Cambridge. Archigram was so involved in the artistic side of architecture that they even opened their own gallery space, Adhocs, in the early 1970s.

Archigram disbanded in 1974, but each of the six original members is still working in their field. Michael has taught architecture at Rhode Island School of Design, Columbia University, Barnard College, Cooper Union, University at Buffalo and Princeton University. He also still works on his illustrious designs and his "Two Journeys" project has been exhibited in the United States and Europe.

There was a question-and-answer segment at the end of the presentations. Only a few were brave enough to raise their hands in the crowd, and out of those few only one person asked a coherent question. Even though Mark Lee and Michael Webb had only been in Denver for barely 24 hours, they were asked what they thought of Denver's urban landscape and what they think could be improved. Michael said that we could stand to have some infrastructure improvements and better coordinative planning. Mark said the city of full of architectural gem/icons, but the common, "everyday" structures like offices and apartments are not of the same quality and do little to support these icons. I agree with this statement, but Denver has some amazing historical neighborhoods and buildings that I am sure they did not have time to see.

These two men and their respective colleagues represent the razor's edge of contemporary architecture, but both have completely different approaches. While Mark Lee comes from a perspective that envisions a home on a specific site, Michael Webb totally questions the entire idea of "the home." What is a kitchen? What does it mean to sleep in a bed? He believes buildings shouldn't even exist unless people are in them. That seems like a challenge for the folks at Johnston Marklee, and for all architects across the world.

-Hayley Richardson

Hayley is the Special Projects Coordinator at the Dikeou Collection. She has published articles and essays for local papers, blogs, museums, and galleries in Denver, Santa Fe, and Albuquerque.
RECAP: 'Denver Night: A Concert with Music and Animals'
On Friday, July 19th, the Dikeou Collection hosted the second installment of our 'Fresh Jazz and Crisp Vinyl Series.' Attendees trickled in and noshed on our brag-worthy spread of delectable finger foods (homemade pork tenderloin and truffle popcorn courtesy of our curator, Devon Dikeou) and ample supply of free beer and wine as they strolled through the maze of galleries. Ken Hamel, founder and editor of DenverArts.org, dug through the crates and played rare vinyl grooves and then Ed Battle and His Trio performed a stellar jazz set with a monumental work from artist Vik Muniz' chocolate series as the backdrop – it doesn't get much cooler than that. The audience turnout was not tremendous, but the event itself was. As we were winding down a comment was made in slight frustration that such a unique, high quality, "this is the real shit" experience was overlooked by the greater art/music community. While this statement is sometimes true, I didn't think much of it on this particular occasion. We knew there was competition on this evening because it was at the same time as 'Denver Night: A Concert with Music and Animals' at Civic Center Park, just a few blocks away from the collection.
'Denver Night' served as the closing ceremony for the Biennial of the Americas, a seven day, city-wide series of events, symposia, and exhibits meant to bring together all of the major players serving in the realms of business, education, art, and culture within the geographical and metaphorical span of the Americas. The schedule for the evening included artist Nick Cave's popular HEARD-DAM soundsuit performance, a five part video and musical reclamation of "You are My Sunshine" conceived by Scott Kinnoman, Liliana Porter's "Fox in the Mirror / El Zorro en el Espejo," a humorous video work with musical accompaniment by Soprano Sydney Fisher and the Colorado Symphony, "Tragedy of a Sea Nymph," an opera by and for dogs (yes, really), AND to top it off, an acoustic performance from members of The Fray. All of this happening while surrounded by an army of food trucks, local craft beer vendors, and brightly lit interactive art installations.


I attended 'Denver Night' with the Collection's Director, Saniego Sanchez, his wife, and their friend after wrapping up our own event, and by that time had already missed the Nick Cave performance and only caught the tail end of "You Are My Sunshine." As we wandered through the endless row of food trucks we bumped into our friend and prominent local art figure, Mark Sink. He was upbeat, and he chatted with us about how happy he was to see such an incredible turnout for a public event grounded in conceptual art and music. His words rang true, and reminded me of the comment mentioned earlier at our jazz event…the Denver population does not ignore such avant-garde happenings, but there is an elemental need for "the spectacle" (i.e. huge stages, rainbow neon lights, and big screens) to make it to the top of the Friday to-do list.


Please don't mind the pitiful quality of the photos – this is the best my smartphone can produce with such a ridiculous clash of lighting components. The two obscenely bright lights are actually projection screens for the artist videos. There was a solid crowd in front of the main stage who listened, watched, and giggled attentively during the quirky video and music performances. Adam Lerner, Director of the Museum of Contemporary Art and one of the primary organizers of the Biennial, took the stage to introduce one of the acts. He donned a black and white pinstripe suit and straw hat, like he was part of a Barbershop Quartet. There actually was a Barbershop Quartet on the bill for the evening…perhaps he moonlights as a baritone? I don't know for sure, I wasn't there for that part of the show. Later Governor Hickenlooper came out and shared some very uplifting words about the significance and success of the Biennial. I always enjoy hearing him address a crowd; he really has a way with getting people excited about their city, especially when it comes to the city's thriving art community.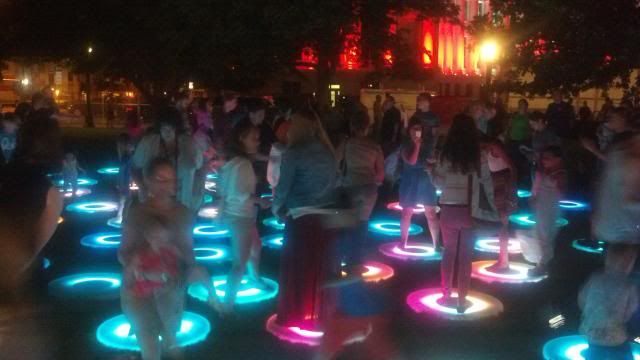 The first installation I investigated was "The Pool" by Jen Lewin from Boulder. There are 160 light pads that respond to audience interaction and change color. I've seen pieces similar to this at various exhibitions and public festivals, and these things can really take a beating. Kids and adults of all ages couldn't get enough of this thing, but while everyone had fun stomping on the neon orbs beneath their feet, I was more concerned about the relentless overhead attacks of glowsticks being hurled into the air and falling onto unsuspecting bystanders like myself.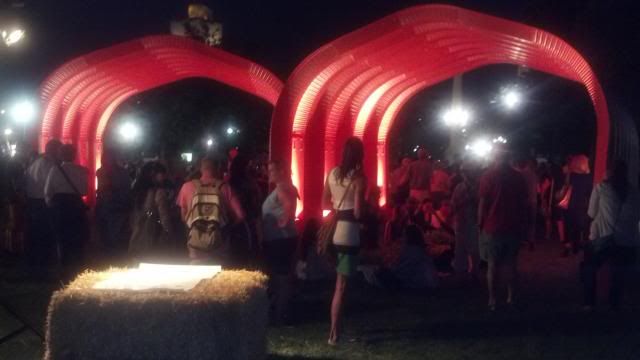 Here are two works that share a theme. The red structures are "Barns" constructed by Indie Architecture and Paul Preissner Architects, and inside was another participant-driven, semi-relational aesthetics piece by Viviane LeCourtois called "Grazing." The haystack in the foreground displays a paper that shows the title of the work, artist name, and a brief description. The use of the haystack as the didactic indicator shows that Denver is still very much in love with its romantic cowboy heritage, and I really like the mixture we have going on in the city's growing sense of sophistication with some down-home country flair. They accompanied all the artworks and were also used to post the performance schedule for the evening.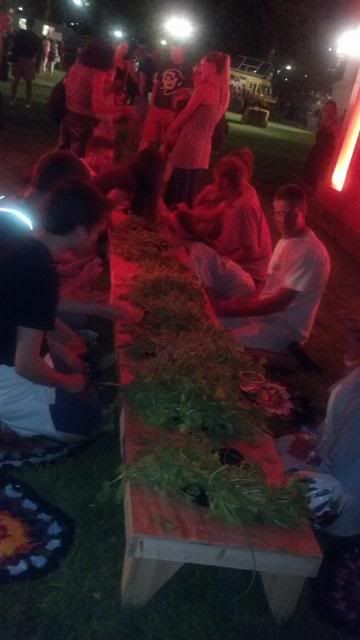 So this is "Grazing." Participants sit on homespun rugs in front of a long, low table full of fresh edible plants…that are still growing in the dirt. The participants are supposed to lean over and eat the plants like cattle grazing in a field. I was entranced at the sight of people eating like this; I would imagine the population of Mortville partaking in such a feast (with a side of you-know-what). And I couldn't shake the thought of how many other people had slobbered all over those plants before one lucky individual got a heaping mouthful. The megawatt lighting filtered through the red walls of the barns created a menacing, slaughterhouse glow that clashed with the vegan vibe.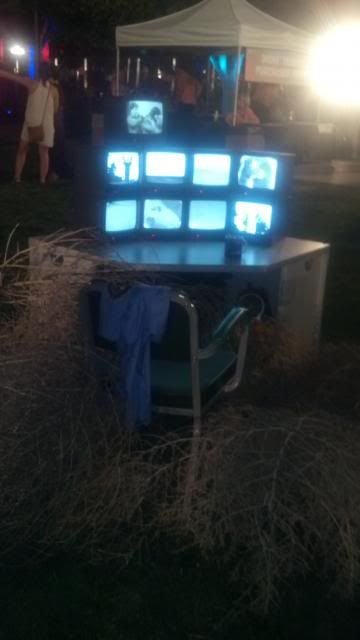 "Code Name: PRONGHORN" by Kim Shively and Chris Bagley was the only artwork that didn't involve audience participation, or at least wasn't presented that way. The description on the nearby haystack says that a taxidermied pronghorn (commonly mistaken for an antelope) dressed as a security guard watches the TV screens, but as this picture shows, there is no pronghorn in sight. I think I saw him sneaking a rum & Coke in the bushes.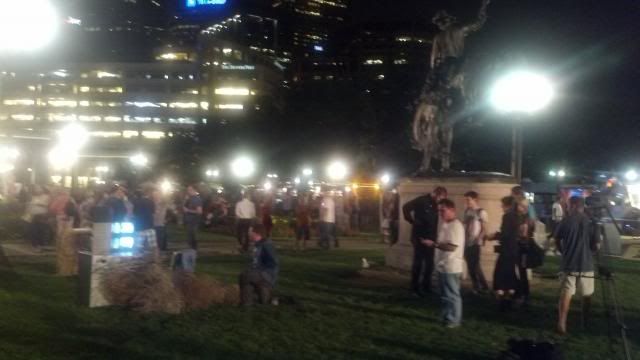 Toward the end of the evening I found myself rather out of place when I accidentally drifted into a private VIP party held in the courtyard area surrounding the McNichols Building in the park, which houses the Biennial exhibition, 'First Draft.' I moseyed back across the grass and took this last shot of the Pronghorn piece with "Bucking Bronco" by Alexander Phimister Proctor, installed at the park in 1920. Events at Civic Center Park always attract big crowds, but 'Denver Night' took a risk by showcasing artists that not many people are familiar with and may not understand. Like Mark Sink, I was happy to see so many Denverites get exposed to conceptual artwork and alternative perspectives on how we relate to our Western location and mindset. I wonder what our old cowboy friend thought of it.

-Hayley Richardson

Hayley is the Special Projects Coordinator at the Dikeou Collection. She has published articles and essays for local papers, blogs, museums, and galleries in Denver and Albuquerque.
Lucky DeBellevue's "Otter" (2002) is not just a sculpture, but a "3-dimensional drawing" made out of chenille stems (aka pipe cleaners). This work was originally shown at the Whitney Museum of American Art, but now resides with us at the Dikeou Collection. Join us this Saturday, July 6, from 12:00-4:00 pm. for a special Family Saturday Workshop to learn more about this artist and to make your own chenille stem work of art.
Dikeou Collection
1615 California St. Suite 515
Denver, CO 80202
https://www.facebook.com/events/631826793514054/
Chris Johanson's MoCA Art Show
Chris Johanson's exhibition 'Within the River of Time Is My Mind' opens at MoCA in Los Angeles this weekend. Check out his interview with the LA Times in which he describes how he discovered peace and positivity in this new body of work. http://www.latimes.com/entertainment/arts/culture/la-et-cm-chris-johanson-20130626,0,6409905.story
Kenny Schachter's Art Basel Diary
He says he was "bored to tears," but Schachter's writing is always entertaining. Be sure to also read Part 2. http://www.artspace.com/magazine/news_events/dealers_diary_basel_in_basel_2013?utm_source=Sailthru&utm_medium=email&utm_term=Master%20No%20Chicago%20Smart&utm_campaign=June_16_2013_Editorial_Weekly
"Please: An Exhibition by Devon Dikeou"
"In "Please," Austin-based artist, curator, writer, and collector Devon Dikeou draws inspiration from the final 16 still lifes made by 19th-century modernist painter Édouard Manet."
Exhibition opens at AMOA-Arthouse in Austin, TX on July 1.
http://www.austin360.com/weblogs/austin-arts-seeing-things/2013/may/16/amoa-arthouse-announces-jones-center-summer-exhibi/
Free Family Art Workshop
Tomorrow, June 1, the Dikeou Collection presents another installment of our Free Family Art Workshop series.  This project will focus on the work of NYC artist, Nils Folke Anderson, and his use of Styrofoam as a sculptural medium.  Materials will be provided for kids and parents to create their own miniature linked styrofoam sculpture.  Music and snacks will also be available to fuel your creativity.  This will take place at the Dikeou Collection Pop-Up Space, 1331 Bannock St., Denver CO 80204 from 12:00 to 4:00.  See you there!